Chased out of the dock by the fishing boat on the inside of the mooring dock, we shifted early morning to set them free. After purchasing a new stock of fuel filters and a 2nd ice pole, we fill our water tank before casting the lines. The sun is shining and the weather looks good for the day. With a good 15 knots of breeze from the north, we tack madly our way through Tunu fjord. Just as we turn the corner, the wind shifts and again we must zigzag our way out into the open sea. It took us 44miles and over 12 hours to cover 24 miles!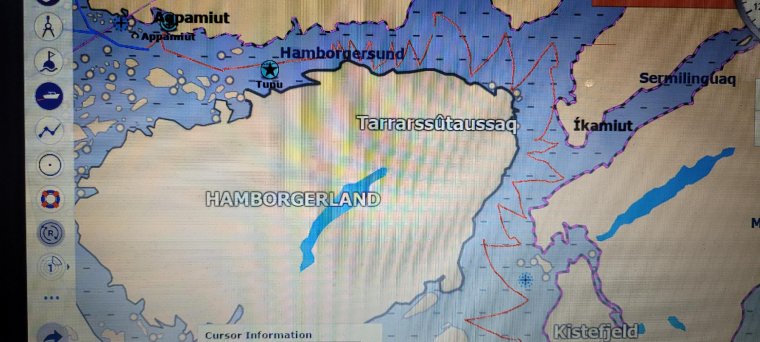 We reach Appamiut late in the evening, just a the sun sheds its light and paints the surrounding mountains a calming soft pink. S/Y Walkabout is already anchored and without a breath a wind, the bay is eerily still. A sweet sense of serenity engulfs me as I gaze at the reflection of the snowy peaks into the cove. Meanwhile, Petter throws a fishing line and very quickly, the bucket fills with 4 healthy cods, plenty for dinner.
The next day greets us with sunshine, blue sky and no wind, a perfect weather to set the Sailrite sewing machine on deck and repair the genoa UV band that had once again torn on the way. Working with Petter made the task so much easier, this sail is so big and heavy it is hard to move it around by oneself. Calin has his own hands full as he's troubleshooting the massive electrical leak we've been having for a while. After a thorough check and turning off every breaker one by one, he successfully pins it down to the windlass – a relief to know the cause and have the ability to turn off the breaker to stop the electrical leak. This is however not good news. The windlass has been sounding a little off lately but it's otherwise behaving rather normal. Taking it apart is a risky endeavour – we may not have the necessary replacement part and needless to say, this cannot be undertaken while we have the anchor down. So for now, we hold our breath and pray for the arctic gods to be kind…
Sonia's beauty salon is open late this evening and amongst this stunning scenery, Calin props himself up on the helm chair for his well overdue haircut. I have no idea how to cut hair but after watching a few videos, I embrace the clipper and go for it. The result is just passable. Fortunately the temperature hovers around 8 degrees and a hat is be worn at all times!